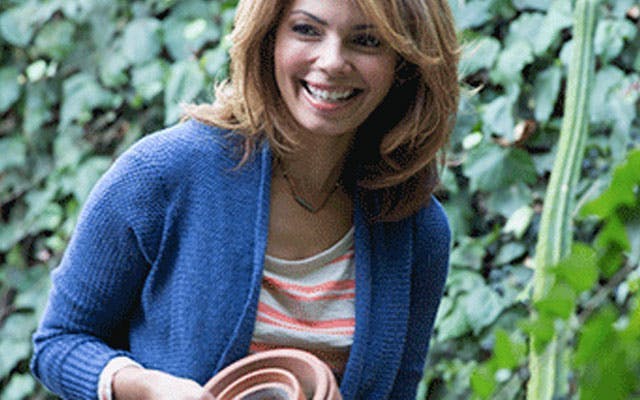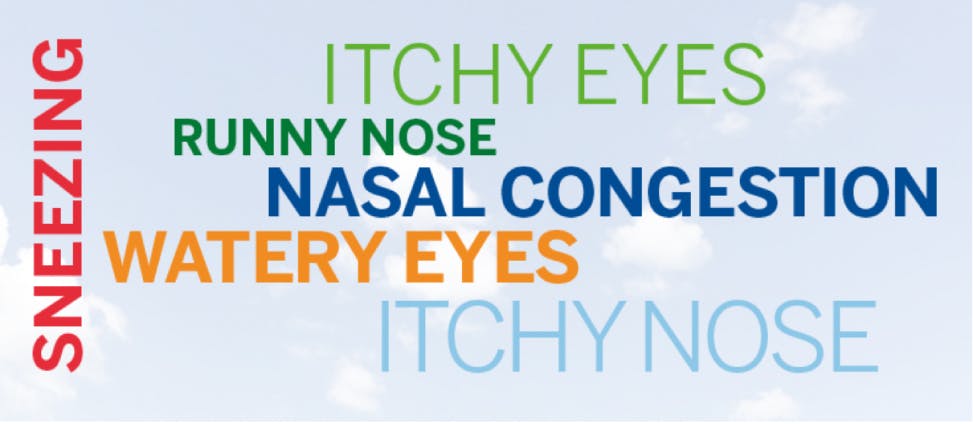 When you think of allergies, maybe you think about tree pollen. Or perhaps pet dander. Or nasal congestion. The fact is, allergic rhinitis (the technical term for hay fever or seasonal allergies) can be triggered whenever you breathe in something you're allergic to—be it pollen, pet dander, dust or mold. And just because the allergens enter your body through your nose, doesn't mean your nose is the only place you'll experience the symptoms of allergies.¹
WHAT ARE THE SYMPTOMS OF ALLERGIES, AND WHERE IN THE BODY DO THEY STRIKE?
Keep reading to learn about some of the different symptoms of allergies (including which parts of the body they affect), some common triggers, and most importantly, how you can get some relief.
NOSE-RELATED SYMPTOMS
NASAL CONGESTION:
When you breathe in an allergen, your immune system responds by releasing chemicals—also called 'allergic substances'—that create inflammation in your nose. This inflammation opens the blood vessels in the lining of your nose and causes swelling and congestion.² Congestion from allergies is often one of the first symptoms to appear once you've been exposed to an allergen.¹
RUNNY NOSE:
It's normal for your nose to produce a thin, clear liquid called mucus. But when you're exposed to an allergen and your nose becomes irritated from inflammation, mucus production increases and results in a runny nose.¹
SNEEZING:
This sudden, forceful burst of air from your nose and mouth is another common allergy symptom. Also called 'sternutation,' sneezing is your body's way of removing an irritant from your nose. While repeated sneezing can be annoying, it's hardly ever a sign of a serious health problem.⁵
ITCHY NOSE:
An itch on any part of your body can be annoying, but the itchy nose that accompanies other nasal allergy symptoms can be especially distracting—and difficult to scratch!⁶
EYE-RELATED SYMPTOMS
ITCHY & WATERY EYES:
Even though they're called nasal allergies, itchy eyes from allergies can be a major source of discomfort when allergy season hits.⁸ This is because the same immune system reaction that creates inflammation in your nose can also make the tiny blood vessels in your eyes leak, leaving you with eyes that are watery as well as itchy.⁷
WHAT TRIGGERS THE SYMPTOMS OF ALLERGIES?
Allergens are allergy-causing particles that travel through the air. Allergens enter the body through the nose and trigger an immune system response. This response involves the release of inflammatory substances, which are what cause your allergic symptoms.
Some of the most common types of allergens include:
Animal allergens. Minute airborne particles produced by pets like dogs or cats are called 'pet dander.'
Indoor allergens. These include mold and particles from dust mites. These allergens are with us all year long.
Tree pollen. Occurs at certain times of the year and is especially prevalent in the fall.
Outdoor allergens. These are the seasonal allergies that include pollen from grass and weeds.
HOW TO GET RELIEF FROM THE SYMPTOMS OF ALLERGIES
FLONASE Allergy Relief Flonase controls several key inflammatory substances your body releases when you have an allergic reaction. Because of the way it works, it may take several days for Flonase to reach maximum effect. That's why it's best to use Flonase proactively a couple days before you suspect you will be exposed to an allergen.
FLONASE not only relieves nasal congestion, runny nose, sneezing, itchy and watery eyes, and itchy nose and throat, but also relieves sinus pain and pressure.