TIPS FOR LIVING WITH CAT ALLERGIES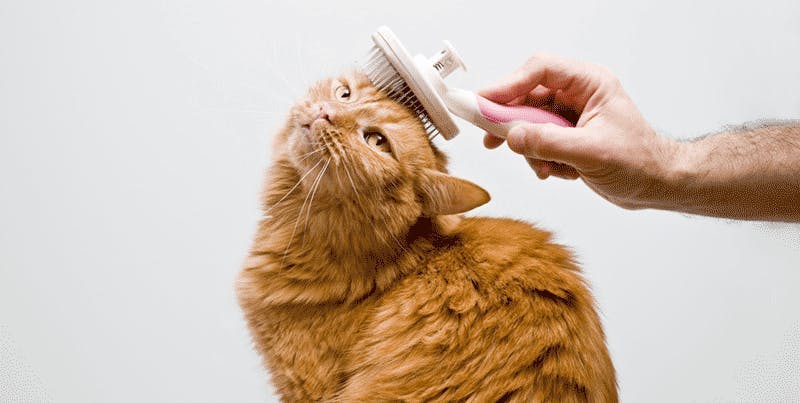 Living with cat allergies can be tough, especially when your partner owns a cat that they adore. Pet allergy symptoms occur when sufferers are exposed to pet dander (flecks of dead skin and saliva).1 To avoid losing your cool when it comes to your allergy symptoms, here are some tips to help you cope with your partner's fluffy friend.
SYMPTOMS OF CAT ALLERGIES
Cat allergies can cause symptoms like:
Coughing and wheezing
Hives or a rash on the chest and face
Red, itchy eyes
Redness of the skin where a cat has scratched, bitten, or licked you
Runny, itchy, or stuffy nose
Sneezing
KEEP CATS AWAY FROM CARPETS AND UPHOLSTERED FURNITURE
Cat dander has a tendency to get everywhere, so limiting the potential surface area cat hair can easily latch on to is key for minimizing cat allergy symptoms. When possible, keep cats off furniture, especially upholstery, and away from carpets.2 If you cannot keep your cat off some furniture and carpets, it can be helpful to vacuum 1-2 times a week (or as often as you can) to capture hair and cat dander. A vacuum cleaner with a high efficiency allergen filter (HEPA filter) may help reduce the amount of hair and dander in your house.
CREATE CAT-FREE ZONES
Certain areas in the house should be designated as cat-free zones, including the bedroom. There's nothing worse than trying to go to sleep only to be attacked by a sneezing fit due to cat dander in the air. Limit the areas your partner's cat can roam to give yourself some sneeze-free spaces.
MINIMIZE SHEDDING AND CAT DANDER
To have the least possible exposure to cat allergens, you should also aim to minimize the cat's shedding and dry skin. Some methods to lessen this shedding include feeding the cat a healthy diet of balanced nutrients, as well as frequent grooming.3
USE AN AIR-FILTERING SYSTEM
HEPA air purifiers help clean the air of indoor allergens, including pet dander, dust, and mold.4 If your partner doesn't own an air purifier, it might be beneficial to look into one for the bedroom so that you can reduce cat allergens while sleeping.
USE FLONASE NASAL SPRAY
FLONASE Allergy Relief can help relieve allergy symptoms with all in one 24-hour non-drowsy relief. FLONASE controls several key inflammatory substances your body releases when you have an allergic reaction, helping to relieve the symptoms that make you uncomfortable. If you can't fully avoid your partner's cat, at least you can relieve the symptoms you experience as a result of that exposure.